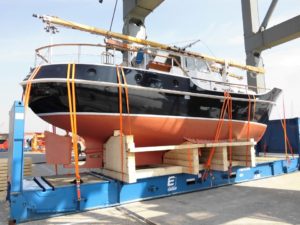 When many clients first call us to purchase a new yacht or boat they often don't understand the significant cost that international shipping can add to their purchase.  Of course, it's common knowledge that the larger the boat or yacht the more expensive the shipping willing be; but less understood is the most common means of transport and the restrictions for each based on the beam; length; height and weight of your vessel.
1: First is the least expensive and this method is by placing a boat Inside a Container.  Although the container is less than 8 feet wide, it is sometimes possible to turn a wider boat sideways in the container to make it fit.  Yacht Trucking has the experience and facilities to do this without causing damage to your boat when it makes sense to save on shipping. The downside is that most boats will need major components removed such as hard tops, windshields, and especially engines.  Containers work best for boats that fit within the 8' width and 7' 8" height limits. Along with your boat, you'll also be able to place other materials and supplies for the boat as well all within a securely locked container. Prices to send a boat in a container including loading and other fees is about $8,000 to Europe. Sending the same container through the Panama Canal to Australia or New Zealand is around $10,000. The key to container boat shipping is the careful preparation and loading. Yacht Trucking has the unique ability to safely load your boat and supplies in containers and then deliver it right to the port for departure to any destination worldwide.
YachtTrucking.com – Container Dimensions / Weight
EQUIPMENT INTERIOR DIMENSIONS
40′ High Cube Container L:12.056m 39′ 6 ½ W:2.347m 7′ 8 ¼ H:2.684m 8′ 5½
40′ Dry Container L:12.051m 39′ 6 ½" W:2.340m 7′ 8″ H:2.380m 7′ 9½"
20′ Dry Container L:5.919m 19′ 5″ W:2.340m 7′ 8″ H:2.380m 7′ 9 ½"
2: The second method is using a ship called a Ro-Ro (Roll-On/Roll-Off) ship.  This method utilizes a flat-track trailer supplied by the ship that utilizes a special transport cradle or utilizes your own boat trailer when it is sufficient. To ship a boat on a Ro-Ro, prices can vary greatly depending on the ship and its destinations. From $600 per foot to ship to the Middle East and $800 per foot to Australia and the South Pacific.  Europe is often the least expensive destination from the US with prices running around $400 per foot, but these rates can and often do vary greatly depending on the time of year shipped and many detailed specifics about your vessel.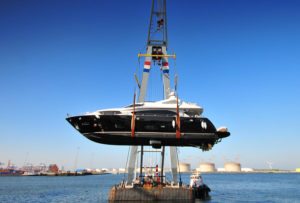 3: The last alternative is if a boat is too large to fit on a trailer then it will need to be loaded from the water Shipside with a Large Onboard Crane. Divers will carefully position lifting straps under the yacht and it will be hoisted out and onto the ship's deck where either a large custom cradle or yacht stands will support the yacht while it is strapped down to prevent shifting during transit.  This process is approximately double the cost of Ro-Ro shipping and it runs about $1,000 USD per foot to Europe and about 25% more to Australia.
Paying attention to these general guidelines will give you an idea of shipping cost when planning your next import purchase.  Also; any large deviations from a "cube or square" such as a boat that has a hard to remove tuna tower could cost you three times the amount to ship if it has to be hauled on the deck of a ship instead of other more economical means.
And always for the most accurate quotes available on any type of boat or yacht transport please contact Yacht Trucking before you make your purchase when possible.
For a frank and honest conversation about how to best transport your yacht legally and safely, please contact us today. We have the professional service you deserve.