Most yachts transported internationally by ship require the use of a Custom Built Transport Cradle. Whether you're shipping a large sailing-yacht or motor-yacht; whether it will be roll-on-roll-off; or loaded utilizing a crane shipside; an accurately designed and quality constructed shipping cradle is extremely important to ensure a safe and damage free passage for your vessel.
Yacht Trucking offers a variety of cradles and can quickly fabricate a new custom cradle that is both economical and secure for any type vessel. Since your boat will rest on a transport cradle for several days if not weeks during the shipping process; it is crucial that the cradle is specifically designed to fit your yacht's unique hull shape and key support areas.
Our professionally fabricated cradles are individually designed; built and tested in order to guarantee your boat's safety. In addition, We Provide Custom Built Roll-On-Roll-Off Yacht Trailers for regular shipments to and from many destinations in the Caribbean and South America which save our clients the expense of a custom cradle in many cases.
We offer a mobile shrink wrap service for both shipping and trucking that are custom tailored to the specific needs that each different transport requires. We are very cost aware and will help you to protect your yachts value without wasting your money where it will not help. In short, we will guide you on when services such as shrink wrap are helpful and when they are unnecessary.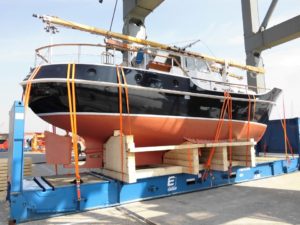 Yacht Trucking handles all facets of boat and yacht transportation domestically and internationally employing flat racks, containers, roll-on-roll-off, and freighter deck loading. We are very hands on and would directly handle delivery to loading pier, custom cradle system, loading from the pier, lashing, securing, all Cargo Risk Marine Insurance and discharge to the pier at the destination. We also specialize in loading yachts by crane directly from the water to the deck of any cargo ship and can guarantee the shortest route available for your yacht's safest delivery.
Yacht Trucking is your one stop logistics partner when transporting yachts across the U.S. and Canada by a truck as well as Internationally by Ship Transport. Our transport quotes are reasonable and accurate and include all services necessary to safely transport your yacht to any worldwide destination. Some companies add pricey and unnecessary extras that can add additional cost to your yacht's transport budget. We protect your yacht and budget while utilizing our quality cradles and trailers to all destinations worldwide.
For a frank and honest conversation about how to best transport your yacht, please contact us today. We have the professional service you deserve.