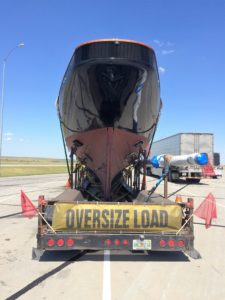 Transporting your boat across the country or state can be very expensive when your boat is over 8'6″ wide or 14′ tall. Most transports over 12′ wide require at least one escort which can quickly add to the expense. The best way to reduce cost is to have a flexible transport time frame that allows us to find another boat that connects with your move. Check out our list of "Connecting Transports" to reduce your cost by as much as 30%. Below is a list of some items to consider when adding up the total cost of any oversize boat move.
Top 10 Boat Transport Cost
Cost of Specialized Equipment – a Semi-truck and lowboy trailer for boat hauling runs well over $200K new – this equipment needs to be replaced every 800,000 miles or 6 years on average.
Fuel, Tires, Oil Changes – All the normal wear-and-tear maintenance for a Semi –truck and lowboy trailer.- add extra for flags and banners plus extra damage due to overweight heavier yachts.
Fuel Tax – Trucks pay each an average of $100/trip for each State.
Permits – Oversize Boats require individual permits for each State that they are transported through – average fee/State is $75.
CDL Drivers – oversize capable drivers are hard to find and demand top pay, they average $400/day pay plus expenses = $500/day.
Escorts – different situations call for 1, 2 and even 3 escorts. They average $1.60/mile per escort plus expenses.
Police Escorts – many oversize loads require police escorts all the way across a State for instance Connecticut. Cost for 2 Troopers is a $1,500 flat fee.
Bridges and Toll Roads – these are often much more for oversize boats – for example, some bridges in NYC can run $500 for a single crossing.
Travel Restrictions – oversize boats have numerous limitations as to what days of the week they can travel, times of day, holiday stoppages and to make travel even more difficult each State's Regulations are different. All of this limits oversize boats progress to 75% of what a normal rig can cover in a day – so add 25% for time delays.
Dead Heading – Oversize boats aren't lined up in a neat order so that once you drop one off in San Diego there's another ready to go at the same Marina. Delivering a boat to the west coast more often than not leaves the truck without another boat to bring back to the east. Running empty for hundreds and thousands of miles is common with boat haulers and these empty miles have to be charged to the full loads to some degree. Running empty accounts for 20% of all miles for boat haulers so add 20% more versus a normal load.

Keeping Transports Legal and Insured
When considering boat transport cost, it's important that your boat hauler carefully complies with all State Laws and Regulations. Many transporters are not familiar with these laws outside of their home operating regions. Other transporters offer cheap quotes and then cut corners to make a profit. It's important to note that without complete compliance, your boat's transport insurance coverage may not cover damages in the event of an accident.
At Yacht Trucking we strive to keep your boat's transport safe and legal. One reason our customers are consistently telling us that we exceed their expectations!
For a frank and honest conversation about how to best transport your yacht, please contact us today. We have the professional service you deserve.