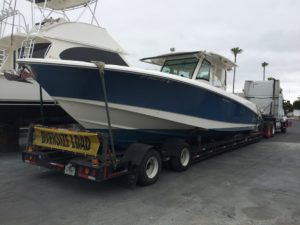 Very often boat transporters are chosen for their proximity to the origin of a boat that needs to be moved rather than based on their qualifications. Most boat movers tend to stay in a particular region of the U.S. and aren't familiar with State regulations outside of their area. This becomes a serious problem when they are required to venture into States that they don't have the knowledge and experience to lawfully comply with DOT wise. DOT laws and regulations can vary greatly from State to State and without constantly traveling the roads of any particular State a transporter can easily get lost due to the varying and complex compliance rules.
Yacht Trucking is available for pickup and delivery within every State and can normally be scheduled within 2 weeks or your need. We're familiar with nearly every marina in North America and will be glad to help you with their loading and unloading schedule as well. Since we regularly transport throughout all of North America we're careful to follow all the rules-of-the-road concerning State DOT Regulations. Oversize boat transporting requires that any boats measuring over 13'6″ in height and/or 8'6″ in width need to have a current oversize permit in-force for each trip. These regulations and permit restrictions are very cumbersome and many transporters often avoid complete compliance in an attempt to reduce their cost. In doing so they place their cargo at risk. Running illegally can and will cause their cargo insurance coverage to lapse. In short, the transporter who doesn't comply with all rules and regulations is putting your boat at risk in order to save time and money for himself.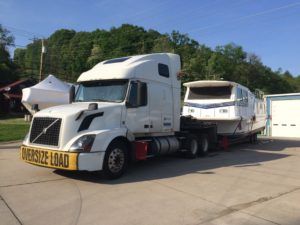 Often less experienced transporters end up running illegal from not being aware of a State's particular laws or regulations because they lack experience in every State. Ignorance of the law is no protection from a violation and again the transporter has placed your boat at risk due to his lack of knowledge. Yacht trucking has the experience and knowledge to navigate your boat through all of the laws and regulations that rule the highways of every state. Annually we successfully complete more cross-country boat and sailboat transports than any other transport company with an exceptional safety and DOT record.
For a frank and honest conversation about how to best transport your yacht legally and safely, please contact us today. We have the professional service you deserve.
Please click on any of the "States Listed by Region" below to better understand the specific regulations that your transporter will be required to follow.
Central

Illinois
Indiana
Iowa 
Kentucky
Michigan
Minnesota
Missouri 
Ohio
Wisconsin

Northern

Connecticut
Delaware 
Maine
Maryland
Massachusetts
New Hampshire
New Jersey
New York
Pennsylvania
Rhode Island 
Vermont

Pacific 

Alaska
Arizona
California
Hawaii
Nevada
Oregon
Utah
Washington

Southern

Alabama
Arkansas
Florida
Georgia
Louisiana
Mississippi
North Carolina
South Carolina
Tennessee
Virginia
West Virginia

Western

Colorado
Idaho
Kansas
Montana
Nebraska
New Mexico
North Dakota
Oklahoma
South Dakota
Texas
Wyoming