Florida Boat Transport
To transport oversize boats in Florida you must be DOT Licensed and abide by FDOT Regulations on all State Roads, Interstates and Toll Roads. Any Florida Boat Transport requires permits for all oversize loads and they are diligent in checking the dimensions stated on each permit they issue. Their numerous weight-stations are equipped with laser measuring devices that indicate to control officers the width and height of all boats that pass through the check stations as well as the weight of each boat. Florida weight-stations are always open as opposed to other States that open and close their stations on a more random basis. Florida Boat Transporters should always maintain legal permits and maintain their equipment in a legal manner because they will be inspected on each trip for legal compliance. Violating any of the State's requirement will cause a transporters boat to be impounded at a weight station for even small discrepancies in most instances.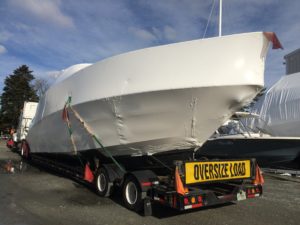 All trucks and trailers with oversize boats in Florida are required to have large red flags on all corners of a load and at the widest points of the load as well. Front and rear flashing yellow lights are also required to mark both corners of the truck and trailer. Any overhang from a boat must also be well flagged. A large "Oversize Banner" must be placed at the front and rear of the load as well.
Safe DOT Compliant Transports
Since Florida is the boating capital of the U.S., there are by far more oversize boat transported in Florida each year than any other State. The Florida DOT officers are very familiar with all requirements for moving oversize boats and are diligent in enforcing their regulations to the letter of the law. For any Florida Boat Transport, most of the interstates within the State allow for loads up to 16' wide and 16′ tall to pass without any major detours. But in 2016, Florida revised its regulations to require a route survey to be performed prior to issuing any permits for loads over 15′ in height. This was mainly due to some lower overpasses located in the Miami area and in general as a safety precaution for high loads that need to travel off of the interstate system. In Florida, as in many coastal communities, many older marinas are surrounded by neighborhoods, so caution and experience are required for safe travel of oversize boats in and out of these marinas and communities.
Yacht Trucking is located in Florida and offers affordable, safe and legal boat transport throughout the State. Our knowledge and experience hauling oversize boats in and out of Florida marinas and ports help us to give great rates and service for any size boat often on short-term notice.
Yacht Trucking has been serving the U.S., Canada, and Mexico for over 22 years.
Our services are reasonably priced and our team members are friendly and knowledgeable professions who value our customer's time and boats like their own. For a frank and honest conversation about how to best transport your yacht in Florida and throughout the entire U.S., please contact us today. We have the professional service you deserve.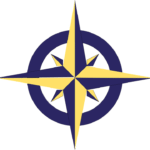 Sailboat Trucking and Shipping
The Florida Department of Transportation is an executive agency, which means it reports directly to the Governor. FDOT's primary statutory responsibility is to coordinate the planning and development of a safe, viable, and balanced state transportation system serving all regions of the state, and to assure the compatibility of all components, including multimodal facilities. A multimodal transportation system combines two or more modes of movement of people or goods. Florida's transportation system includes roadway, air, rail, sea, spaceports, bus transit, and bicycle and pedestrian facilities.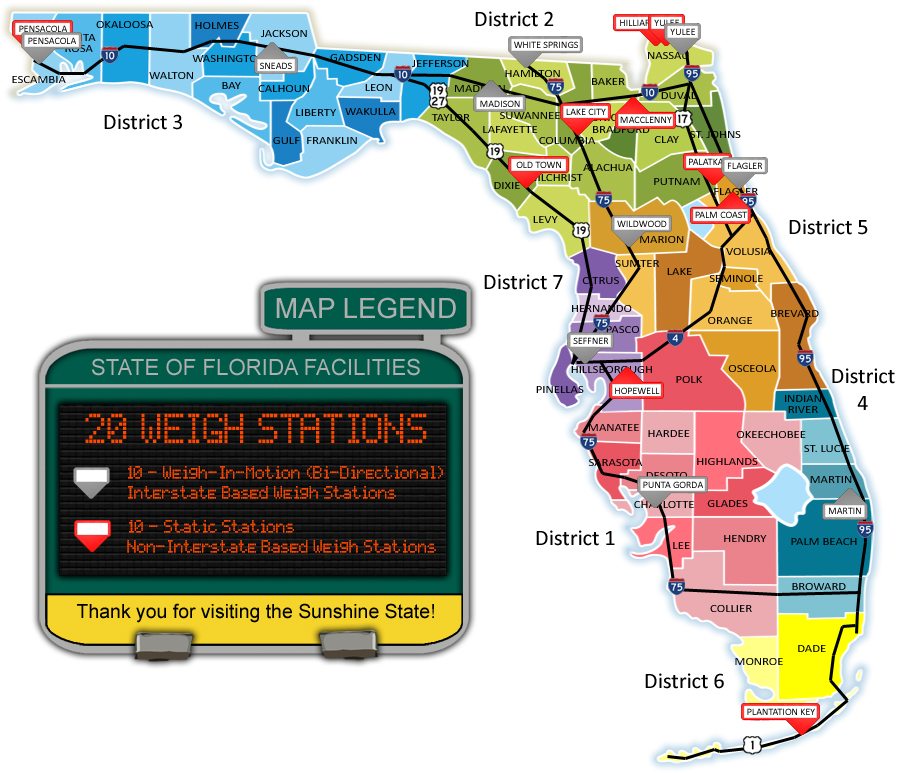 PERMITS: Florida oversize permits are valid for five days.
OPERATING TIME: One half hour before sunrise to one-half hour after sunset, including Saturday and Sunday if the load is 10′ wide and under, legal trailer length, and height not exceeding 14'6. Over 10′ wide but not exceeding 14′ wide and not exceeding 16′ high may travel until 12:00 noon on Saturday and Sunday. Overweight-only can usually run 24/7.
RESTRICTED TRAVEL: No movement allowed from 7:00 – 9:00 a.m. and 4:00 – 6:00 p.m. in Hillsboro and Dade Counties. Other county curfews, depending on permitted dimensions, will be listed on the Florida permit. Travel is prohibited during 6 main holidays plus Martin Luther King Day for loads exceeding 10′ wide, 14'6 high or legal length: The days before and after New Year's, Thanksgiving and Christmas may also be restricted.
TURNPIKE: Florida turnpike limit is 12′ wide, 13'6 high. FL Turnpike routes are applied for with the state application. Additional toll charge is approximately 25 cents per mile for 7 axles, 20 cents per mile for 5.
LEGAL DIMENSIONS
Length:
48′ trailer (53′ semi-trailer must have kingpin setting of 41′ from center of kingpin to center of rear axle to be legal)
75′ overall length
Width: 8'6″ (8′ on some non-designated)
Height: 13′ 6″ (13′ non-designated).
Overhang: 3′ front or rear.
Weight: 80,000 Gross
Single – 22,000
Tandem – 44,000
Tridem – 66,000
ROUTINE PERMIT LIMITS
Length: 150′
Overhang: No set maximum.
Width: 16′
Height: 16′ *
*Route survey (written) is required for height over 15′.
Weight: Depends on spacings
5 axles – 112,000 depends on spacings and routes
6 axles – 122,000
7 axles – 142,000
Loads exceeding these dimensions or weights have to be applied for as Super Loads.
ESCORTS
Length: Over 95′ – 1 escort
Overhang: Rear overhang up to 20′ past center of last axle or dolly may require 1 escort.
Width:
Over 12′ – 1 escort, (over 12′ on some 2-lanes – 2 escorts)
over 14′ – 2 escorts
over 15′ may also require State Police escort
Height:
Over 14'6 – 1 escort
over 16′ – 2 escorts
At 15′ high and over needs route survey.
MISCELLANEOUS: Blades, buckets, counterweights, etc. may be hauled up to 16′ wide, only if cannot be reduced (welded parts). Parts may be hauled on the same vehicle.
SIGNS, FLAGS & LIGHTS: Flags are required on all over width, over height and over length loads, and with 3′ front or 4′ rear overhang. "Oversize Load" signs required on all loads exceeding 10′ wide, over legal length or 14′ high. Loads exceeding 10′ wide, or over 4′ rear overhang need 360-degree amber warning light on the tractor. Width over 12′, height over 14'6, length 85′ or over, requires two 360 degree amber warning lights, one on the tractor and one at the rear of the load.
Florida Bodies of Water
Kissimmee River | Santa Fe River | Manatee River | Indian River Lagoon | Sarasota Bay | Tampa Bay | Florida Bay | Silver River – Silver Springs |ICW | Atlantic Ocean | Gulf Coast – Gulf of Mexico | Orange Lake | Lake Butler | Lake George | Lake Jessup | Crescent Lake | Lake Okeechobee | Lake Apopka | Lake Monroe | Tarpon Lake | Lake Nona |St Johns River | Peace River |Crystal River | St Mary's River | India River |
Florida Major Ports
Port of Fort Pierce | Port of Miami | Port of Key West | Port Manatee | Port of Panama City | Port of Pensacola | Port of Palm Beach | Port of St Petersburg | Port of Tampa BayCape Canaveral | Port Everglades | Port Citrus | Port of Fernandina | Port of Jacksonville |
Florida Major and Coastal Cities
Sarasota | Port Charlotte | Sanibel | Marco Island | Naples | Fort Walton Beach | Englewood | Captiva | Hernando Beach | Tarpon Springs | Punta Gorda | Bradenton | Ellenton | Rockledge | Long Boat Key | Largo | St James | Niceville | Perdido Key | St Marks | Mary Esther | Pensacola |Destin | Shalimar | Tallahassee | Panama City | Alachua | Sanford | Orlando | Gainesville | Palatka |Miami | Fort Lauderdale | Jupiter | Stuart | Boca Raton | Riviera Beach | Jacksonville | Palm Coast | Hollywood | West Palm Beach | Fort Pierce | Port St Lucie | Key West | Key Largo | Tavernier | Marathon | Islamorada | Big Pine Key | Lake Worth | Cocoa Beach | Boynton Beach | Daytona | Delray | Homestead | Coral Gables | Ponte Vedra Beach | Cape Canaveral | Melbourne |St Augustine | St Fernandina Beach | Tampa | Clearwater | St Petersburg | Fort Myers
Call Us  ( 850-261-3540 )
Transport Testimonials
Yacht Trucking relocated my 40′ trawler from Maine to Kentucky and the transport could not have gone any better. Getting out of the New England States is always a challenge with oversize loads and they worked hard during planning to have the necessary permits and routes without overspending. The driver kept me updated throughout the each day with texts, pics and phone calls as needed to show how the trip was going. Their equipment is first-rate. Highly recommended service.

I was very pleased with the professionalism, price, and service from Yacht Trucking when they moved my 51' Bluewater Coastal Cruiser from Marathon in the Florida Keys north to Pensacola.  I would definitely hire them again!

YT just completed the delivery of our Beneteau 393 from Texas to the San Francisco Bay area. I was very impressed by their professionalism and attention to detail. Not just double checking, but triple checking important items. Their crew was very helpful with the MANY questions I had and provided a lot of details that helped me understand and feel comfortable throughout the entire process. Highly recommended!

Great Affordable Service – they just finished moving my 45′ Sea Ray from Miami to San Diego – very reasonable cost – ahead of schedule delivery – no damage – no extras – Great to find that SERVICE WITH A SMILE (my smile ) is still available in the US. Would highly recommend these guys to move a boat for anyone in need.

Exceptional customer service with top-notch loadmasters that were especially careful when loading my motor cruiser onto the cradle and ship. I have moved my boat across the Atlantic 3 times and this was by far my best experience. I would highly recommend Yacht Trucking to anyone shipping their yacht across the Atlantic or the World and will use them again when the need arises.

Outstanding experience transporting my houseboat from West Virginia to upstate New York. Equipment was specialized for transporting boats. The driver really knew his stuff and was very detailed in loading. I felt very confident that boat would arrive safely. Good communication and fair rates. I would highly recommend if them to anyone who needs to move a boat.

Everyone with Yacht Trucking was extremely easy to communicate with and I received excellent service from the driver and loader. We felt very comfortable with the entire process from the minute we signed our contract; to the day our boat was delivered to the port in Port Everglades from Ventura and loaded onto the ship's deck; all the way through until it arrived in Majorca safe and sound; exceptional people to work with for shipping sailboats overseas.

***** 5 STAR SERVICE!!! Yacht Trucking did an outstanding job relocating our 40′ sailboat from San Diego, CA to Anacortes, WA. Our driver was extremely professional and took expert care in getting our boat secured for transport. He remained in constant communication throughout the trip, sending daily updates of his progress.  He put all my anxiety to rest and delivered our boat early in perfect condition. There's no doubt that I will pursue his services again without hesitation.
Request a Quote