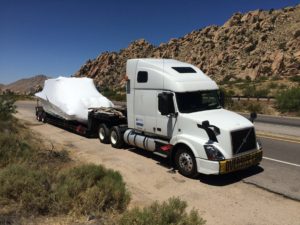 Yacht Trucking understands that choosing the right company to transport your boat or yacht is an important decision. Here are key reasons why Yacht Trucking is the top choice when it comes to transporting small boats and larger yachts overland by road to all destinations in the US and Canada.
Specialized Boat Transport Equipment
We don't haul heavy equipment or frozen food. We are boat haulers, we have specialized boat transport trailers and we only transport boats, sailboats and yachts. Our focus and attention in the yacht transport industry have earned us a unique reputation as "Transport Mavens" for Overland Yacht and Boat Transportation as well as Ocean Yacht Shipping.

Fully Insured and Legal Transports
All of our boat hauling jobs are completely insured for $1,000,000. We are also very careful to maintain legal, properly permitted moves that keep our coverage fully enforced during your yachts entire transport. Our exemplary safety record along with numerous satisfied boat transport clients speak volumes about the diligence we take to guarantee the safest move possible for your yacht.
Experienced and Knowledgeable Drivers
There is no substitute for experience when properly loading and hauling an oversized yacht across a State or completely across North America. Some of our drivers have 25+ years of yacht transport experience. We understand your boat or yacht is more than an investment to you and that each yacht is unique. Many boat owners spend countless hours making their boat perfect and we respect their investment in time, sweat, and money. Our drivers are boat owners as well, so they take the same care and caution when transporting your boat as they do their own. Our testimonials from recent yacht transport customers' best describe the care and thoroughness we take when undergoing all transports. Please feel free to contact us and ask for a list of customers with yachts similar to your own.

We Earn Your Confidence
We want you to have confidence in Yacht Trucking before you sign your contract to transport your yacht. We are a preferred carrier for several OEM's and serve all of the U.S., Canada, and World through our own trucks and quality partners. Your confidence in our service means everything to us and we want to earn it just as we have earned the trust of numerous boat and yacht manufacturers throughout the years.
Safe and Dependable Logistics Solutions
Secure and reliable yacht delivery doesn't happen without detailed planning and competent execution. Yacht Trucking has been perfecting the art of trucking and shipping yachts around the World since 1995. We have the equipment and personnel to transport the largest yachts to any destination and specialize in the difficult moves that other logistic companies can't handle. Whether you're moving your 30' Sea Ray across the State or shipping your 120' Superyacht to the Mediterranean, Yacht Trucking is your direct source for boat and yacht transport services.
For a frank and honest conversation about how to best transport your yacht, please contact us today.
We have the professional service you deserve.