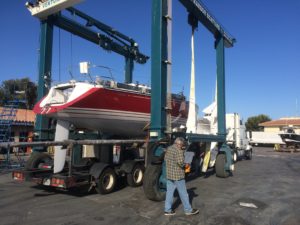 Preparing your yacht to be shipped by road or ocean is crucial to ensure that no damage occurs to extra components of the yacht as well as the yacht itself. The extra time and preparation spent will pay dividends as opposed to a boat who neglects to properly secure his boat prior to hitting the road or being loaded onto a ship. No matter what kind of boat you need to ship, be it a powerboat, a sailboat, personal watercraft, yacht, or commercial fishing boat it is important that it is completely prepared for its exact form of transport.One of the first things to do is to locate the right carrier for your job.
When considering a transport company to work with make sure to check if they have made your particular trip before. Knowing your potential routes height, weight and width limitations can help you avoid delays, unforeseen cost overruns, and even loss of insurance coverage due to your transporters knowledge conforming to State DOT regulations.
A good transport company like Yacht Trucking will know all of the cost and detours for your route prior to contracting. They will be able to obtain all of the necessary State Permits and also help schedule the marinas at both ends for timely loading and unloading of your boat. Yacht Trucking will provide you with the right amount of insurance coverage to secure your boat during transport and will help you document the move with daily photos send to you via text or email with location updates attached as well. These photos are important for insurance purposes and also serve as a memento for many people because they show their boat in places like deserts where it will probably never cross again. It's also a good idea to take pre-move pictures yourself when possible to properly document the condition of your boat prior to a transporter receiving it. Make sure you take detailed pictures that are fairly close up from all angles and a few of each side just far away enough to include everything. The next thing you want to do is to remove all of your personal items from the boat and also remove all flammables items from the vessel. This includes cans of propane or portable fuel tanks. Below is a brief list to remind you of the type of things you need to do in general before your boat's transport.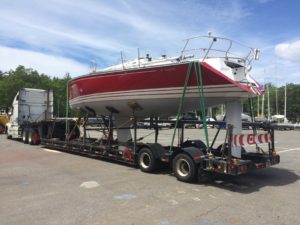 Storage: Any valuable items that you have aboard, such as cash, jewelry, watches, paintings or other valuables should be removed.  Ordinary loose shipboard items like life preservers, binoculars, and water sports items should be stored below the decks and ideally in a locked compartment. Galley equipment, lamps, and other small furnishings should be packed in boxes, set on the floor and braced to prevent sliding.
Security: You should lock your cabin for security purposes. We assume that you have secured all of your items in the cabin and below deck. Our delivery crew basically never leaves your yacht unattended except for meals.  Even so, we like the boat to be locked for even those short times.
Scheduling Marinas: You are responsible for setting up the marinas for the loading and off loading of your vessel. We will follow up a day before pickup and delivery. We do not load or transport to marinas that do not have a travel lift. Our equipment requires a travel lift to handle the boat loading and unloading of the boat.
Shrink Wrapping: It is a good idea to shrink wrap the control and cockpit area of express cruisers, only if the person applying the shrink wrap can attach it tightly and well secured.  If it is loosely applied or not well secured with tape, it will eventually tear loose.  If it tears at all, it will inflate and tear further into long strips which will thrash your exterior gel coat.  This flogging can mark the boat's finish and even cut upholstery due to the jagged edges of the plastic. If shrink wrap services are not readily available, we can provide the service for a reasonable fee.
Every Yacht Trucking transport has the capability of using shrink wrap equipment. Only using tough twelve mil thickness film, we guarantee the plastic protection will remain intact during each boat transport. In addition, each driver has a dedicated escort vehicle and onboard security cameras for your boat's protection. We make your boat's safety our top priority!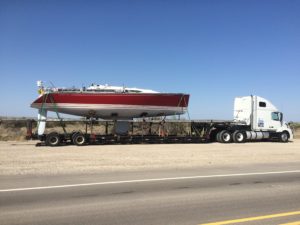 Boat Exterior: All exterior items such as antennas, radar, speakers, hailers, etc. need to be securely fastened and may need to be removed for height clearance.  We will help you determine what needs to be removed.
Electronics: Any electronics that are removable should be removed and stored in a locked compartment. Covers that can fly off for permanently installed units need to be carefully taped in place and sometimes a layer of felt should be placed over electronic areas and taped in place using shrink wrap tape to guard against any low hanging branches or wires that may cause them damage due to their being located at the top of a flybridge.
For a frank and honest conversation about how to best transport your yacht legally and safely, please contact us today. We have the professional service you deserve.