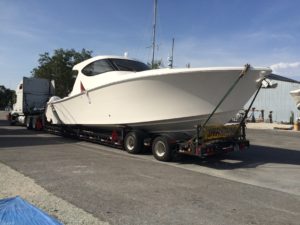 All Yacht Trucking Road Transports include $1,000,000 liability and $250,000 cargo insurance coverage. We increase our cargo coverage to accommodate more valuable yachts on a per need basis to ensure that you're completely covered for the stated value of your boat. We do this to keep our cost down for lesser valued boats so they aren't charged for unnecessary coverage. Our insurance coverage assures that the overland shipping of your boat or yacht will be completely protected from pick-up to delivery. Our extensive experience and knowledge of the transport industry; plus our safety record and a long list of satisfied transport clients ensures you that we will take extra care when moving your boat or sailboat by truck.
A special note of emphasis needs to be made here that Yacht Trucking carefully follows all the rules-of-the-road concerning State DOT Regulations. These regulations and permit restrictions are very cumbersome and many transporters often avoid complete compliance in an attempt to reduce cost. In doing so they place their cargo at risk; this means your boat has no coverage so the transporter can save time and money for himself. Often less experienced transporters are running illegal without even being aware of a law or regulation they're violating because they lack experience in every States. Ignorance of the law is no protection from a violation and again the transporter has placed your boat at risk due to his lack of knowledge. Yacht trucking has the experience and knowledge to navigate your boat through all of the laws and regulations that rule the highways of every state. Annually we successfully complete more cross-country transports than any other transport company and have an exceptional safety and DOT record.
For International Yacht Shipping our tailor-made All Risk insurance included in all our quotations, giving you peace of mind that your yacht is safely insured. Due to the volume of yachts we ship, combined with our excellent track record, we are able to offer highly competitive transport insurance premiums via the expert yacht divisions of the leading insurance brokers. These insurance intermediaries understand your requirements ensuring that adequate insurance is placed with reliable first class insurers such as for example Lloyd's of London Insurance.
For a frank and honest conversation about how to best transport your yacht, please contact us today. We have the professional service you deserve.