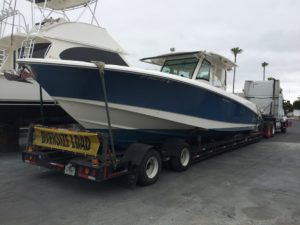 It all begins with the careful and experienced knowledge needed to load an oversize yacht correctly onto an air-ride lowboy semi-trailer. These trailers are more common than not Waltron Brand lowboys that are manufactured in Canada. All are equipped with metal stanchions; cross beams; rails; an assortment of connector pieces; and screw pads all used to form a cradle under yachts to be transported. Motor-yachts set low on the trailer and are usually easier to load and require 2-3 hours of hard work to carefully place the keel on center supports with screw pads supporting the bottom-sides of the hull.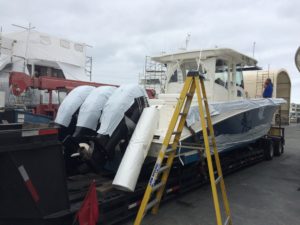 Next tie-down straps are placed around the boat's cleats and secured to the trailer using ratchets. All straps are padded with thick felt to prevent scuffing to the yachts paint and gel-coat. Lastly, the truck and trailer are flagged with red signal flags and front and rear "Oversize Load" banners are placed to mark the load. In addition flashing lights can be added where required by each State placed strategically for marking when traveling at night.
Sailboat loading done expertly is nothing less than an art. With keels 6 or 7' high sailboats can be very top heavy and require a seasoned professional to design and construct a custom cradle from scratch for each sailboat's hull. No two sailboats the same and each cradle needs to be built with weight distribution and key support areas in mind. High steel stanchions are used with tubular cross-members connecting them; all strung together with 3/8's chains and chain-dogs to form a highly effective support cradle. Lastly; wrapping the keel at the base in all for directions with heavy 4" straps is a needed extra that very few companies require like Yacht Trucking does with every sailboat transport. There is no substitute for experience when loading a large sailboat for a 3,000-mile cross-country transport by road.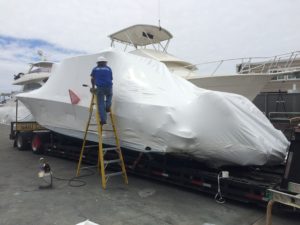 If you can visualize a pyramid symbolizing all truck drivers; at the very top of that pyramid, you'd find the few men capable of safe oversize boat hauling. The driving skills needed along with the mental sharpness and toughness in addition to the experience with loading and endless State regulations keep the number to top notch boat drivers very, very small. These CDL Elites navigate 10 and 11' lanes with 14, 15 and 16' wide boats on a daily basis.
They travel 500 hundred to 700 miles daily while stopping at all weigh stations. They endure endless inspections by State DOT officers. They keep an eye on other less professional drivers who they share the road. They stay maintain constant radio contact with their escorts all the while keeping both eyes peeled on their oversize boats rolling down the highway at 70 mph.
It's obviously wise to first check a trucking company's references from recent clients and especially your individual driver's record and reviews prior to hiring a transporter for your move. After-all the driver is the one that will load and drive your boat's transport as well as protect the yacht at night from any potential theft.
"Shrink wrapping is good protection if it's done right, but ripped shrink-wrap flapping down the highway at 70 mph will do more harm than good. It's crucial to understand that shrink-wrapping for over-the-road transport by truck requires different material.  Much heavier and thicker plastic wrap with considerable underlayment and string support webbing must be professionally installed to resist tearing and shredding while traveling at high speeds.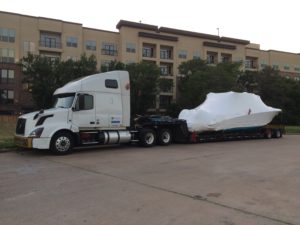 Also transporting across the country will often expose the wrap to extreme changing temperatures and weather conditions that cause the plastic cover to greatly expand and contract. For winter storage and international ocean transport shrink wrap can be of a lesser thickness and supported to a lesser degree, but professional installation methods are always needed to acquire the best and most lasting results.
As always we hope these insights provide yacht owners with the needed caution when hiring a company to Load, Shrink Wrap and Transport their yacht by road or via ocean freighter. Yacht Trucking is careful to train our drivers and loadmasters with the best techniques for safe and effective results. We understand that a careful and detailed approach to all aspects of Yacht Transport ensures reliable and trouble free services for our clients.